Mission and Research Field Specification of the Scientific Journal Security Theory and Practice
© Policejní akademie ČR ISSN 1801-8211

The journal Security Theory and Practice is a peer-reviewed professional periodical of the Police Academy of the Czech Republic in Prague included in the database of scientific journals European Reference Index for the Humanities and the Social Sciences (ERIH PLUS). The main mission of the journal is to publish the findings of scientific and research work that focus on contemporary security threats and development trends of particular forms of crime, procedures and cooperation of security forces, security aspects of management, administration and office work specifically oriented at crisis management, security management, criminalistics, criminology and forensic psychology.
In addition to the above-mentioned areas the journal strives to publish research findings related to general as well as specific security aspects of philosophical, legal and pedagogical research as well as of political science research.
The journal preferentially seeks to publish scientific articles with a major focus placed on original scientific and overview articles. The journal also provides the expert public with expert communications, discussion comments and information which are in accordance with the main focus of the journal.
The journal is a preferred source of information for both the specialized experts as well as for the wider expert community. It is not freely accessible on the market and is distributed within the Ministry of the Interior of the Czech Republic, further within both internal and external institutions focusing on security theory and practice and to the libraries across the Czech Republic.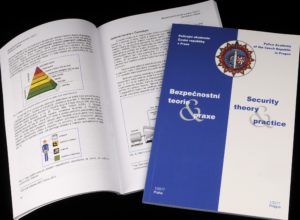 History of the Journal
The issue of the periodical Scientific Journal Security Theory and Practice has a long-term tradition. From 1995 the periodical "The Scientific Journal of the Police Academy of the Czech Republic Security Theory and Practice" was issued at irregular intervals (ISSN 1211-2461).
In 2005 the journal began to be issued four times a year and in 2006 the title of the journal and its formal and content level were changed. The journal was assigned a new ISSN (1801-8211).
At the beginning of 2016 the journal was included into the database of scientific journals ERIH PLUS. In 2020 the online version of the journal has been launched and those who are interested have unlimited access to articles that have been published in pdf format since 2017. On the basis of this change the ISBN (2571-4589) was assigned for the electronic version of this specialist periodical.
The journal is registered by the Ministry of Culture of the Czech Republic according to the law No. 46/2000 Coll. under the registration mark MK ČR E 21198.